Hello, everyone! Hope you all had a good weekend. :) I'm eager to share our vacation photos over the next few days, but before that I wanted to do a bookish post because I am amped up for some upcoming May releases and I've got a rare moment of time to talk your proverbial ear off. Let's get to it!
I'm taking the
2015 Goodreads Reading Challenge
, and I am thrilled to say that I have passed the 100 book-mark! I've currently read 106 of my 220 goal, which puts me at 48% complete and 34 books ahead of schedule.
April was a slightly slower month for me, reading wise, since work kicked my ass and I had hardly any time. I did read quite a few great reads, and found a series I'm itching to continue. 26 books were read in April, and I've listed them below.
-
My Soul to Steal - Rachel Vincent (Soul Screamers #4
)
Young adult, paranormal and paranormal romance, 1st person. 2/5 stars. No warnings. I like this author and the series overall is enjoyable, but this book infuriated me.
-
Reaper- Rachel Vincent (Soul Screamers 3.5)
Young adult, paranormal, 1st person, novella. 3.5/5 stars. No warnings. Interesting backstory on my favorite character in the series.
-
The Darkest Minds - Alexandra Bracken (The Darkest Minds #1)
Young adult, dystopian, 1st person, 3.5/5 stars. Some violence. This is a highly rated book that's usually raved about in the book community, especially on BookTube. Given the hype, I was slightly disappointed. It dragged on in several spots, and given that it's nearly 500 pages, I felt it could've been half the length without loosing anything integral to the story. That aside, it was an interesting read and I finished the trilogy.
-
Entwined With You - Sylvia Day (Crossfire #3)
Adult, erotic romance/drama, 1st person, 4/5 stars. Lots of very detailed smut and lots of angst, abuse. This series is a huge guilty pleasure of mine.
-
Some Girls Bite - Chloe Neil (Chicagoland Vampires #1)
Adult, paranormal/paranormal romance (I think), 1st person. This is a pretty highly rated book that I struggled and struggled with. Finally gave up and shelved it as a Did Not Finish around 70% of the way through.
-
If I Die - Rachel Vincent (Soul Screamers #5)
Young adult, paranormal romance, 1st person, 3.5/5 stars. Enjoyed this much more than the 4th book.
-
Before I wake - Rachel Vincent (Soul Screamers #6)
Young adult, paranormal romance, 1st person, 4/5 stars. Another enjoyable and very quick read.
-
Captivated By You - Sylvia Day (Crossfire #4)
Adult, erotic romance/drama, alternating 1st person, 3.5/5 stars. Very graphic smut and plenty of angst, abuse. Let me just say that I
hate
when authors decide to alternate POVs once they're already into a series. It drives me up the wall.
-
Love, In Spanish - Karina Halle (Love, In English #2)
Contemporary romance, 1st person, 5/5 stars. Adultery, large age gap. Sigh. I absolutely adore Halle's writing. This gave me all the feels.
-
Fisher's Light - Tara Sivec
Contemporary romance, alternating 1st person, 5/5 stars. PTSD, violence, angst, some smut. This book has been getting five star ratings pretty much across the board in the book community, and I can see why. It's a beautiful love story that made me cry more than once. It's about a husband and wife, recently divorced from each other due to his severe PTSD from five deployments in the Army. Through flashbacks, old journal entries and slowly reconnecting during his recovery, they work to fix both themselves and their relationship. Beautiful story.
-
Confess - Colleen Hoover
New adult/adult, contemporary romance, alternating 1st person, 3.5/5 stars.
Another book that's been raved about by all my favorite book bloggers, Hoover's latest release fell a bit flat for me. Don't get me wrong, it was an enjoyable book that made me cry in a few spots, and has Hoover's usual spellbinding style, but it felt a bit choppy and weak to me, with a very abrupt ending for a standalone novel. Hoover is one of my favorite authors and still remains on my "automatic buy" list, but
Confess
didn't live up to my expectations the way I wished it would. I did really enjoy the artwork and real life confessions throughout the book though.
-
Carter - R. J. Lewis
New adult, contemporary romance, sort of alternating 1st person, 2.5/5 stars, short story. Some abuse. Interesting enough to make me want to read the sequel, not interesting enough to say much about it. Annoying main characters.
-
Reboot - Amy Tintera (Reboot #1)
Young adult (did not read like it), dystopian, 1st person, 3.75/5 stars. Surprisingly graphic violence. An unusual take on dystopians that kept me on the edge of my seat.
-
Never Fade - Alexandra Braken (The Darkest Minds #2)
Young adult, dystopian, 1st person, 3.5/5 stars. Violence.
-
In The After Light - Alexandra Bracken (The Darkest Minds #3)
Exact same as above, though I will never understand why it is okay to include detailed acts of violence in teen-targeted books and then do a fade out when it comes to a sex scene. Enjoyable series, though all three books drag until about 250 pages in.
-
Nocte -Courtney Cole (The Nocte Trilogy #1)
New adult, contemporary romance/and other-things-I-can't-even-put-my-finger-on-cuz-I-don't-even-know-anything-anymore, 1st person alternating, 6 AMAZING STARS!!! Tissue warning (!!!), mental illness.
Holy...shit...batman. Wow. This book was the biggest mindfuck I've read in a very long time, and I really can't say much without giving it away. Take my word for it that this book is absolutely incredible. It lulled me into such a false sense of security and made my thoughts go off in a hundred different directions, none of which were right. It was creepy, heartbreaking, fascinating, gut wrenching, and thrilling. The twist knocked me on my ass and left me stunned and sobbing. Can't say enough good things about this book. I devoured it in less than a day, and immediately bought the second book. The third should be out sometime later this year.
-
Rockstars Do It Harder - Jasinda Wilder
Adult, porn word vomit, 1st person, 0/5 stars. Nothing but smut, threesome, horrid writing. It was free for a reason....
-
With All My Soul - Rachel Vincent (Soul Screamers #7)
Same as other books in this series, 4/5 stars. A satisfying conclusion.
-
Last Call - Alice Clayton (Cocktail Series #4.5/Wallbanger #3)
Adult, contemporary romance and humor, 1st person, 5/5 stars, novella. These books are hilarious, sexy and enjoyable. The first book,
Wallbanger,
had me laughing so hard I almost cried. Plus, it boasts my delicious book-boyfriend, Simon.
-
Unteachable - Leah Raeder
New adult, contemporary, 1st person, 5/5 stars. Beautiful, heartbreaking, thought proving and engaging. The writing is gorgeous and some passages made me shiver, though it was a bit too much for me a few times in the book.
-
Transcendence - Shay Savage
Adult, romance, 1st person, 4.5/5 stars, some sex. This isn't something I'd have ever read if it was from another author, but I love Shay Savage's style and she did not disappoint with this. One of the most unusual and yet strangely heartwarming stories I've ever read. It's about a woman being thrown back into prehistoric times and falling in love with an absurdly sweet caveman. Yeah, I see that look; I had the same one until I read it. Beautifully written and it actually made me cry.
-
Curious - R. G. Alexander
Adult, erotic romance-ish, pure m/m smut, 3rd person, 2/5 stars. So...yeah. A slightly embarrassing choice, but interesting and engaging enough.
-
This Girl - Colleen Hoover (Slammed #3)
New adult, contemporary romance, 1st person, 5/5 stars. No warning besides excessive fluff. I just love this couple, and this series in general. It's great when you need slight angst but mostly just fluffy romance.
-
If You Dare - Evelyn Troy
Adult, erotica-trying-to-cash-in-on-the-50-shades-sucess, 3rd person, 0/5 stars. BDSM and explicit sex. Free for a good reason. Reading this just made me cringe, from the scenes playing out to the awful writing.
-
Hopeless - Colleen Hoover (Hopeless #1)
New adult, contemporary romance, 1st person, 3/5 stars. Abuse. No matter what she writes, Colleen Hoover knows how to keep the reader engaged. Even when I don't especially enjoy the story like with this one, I still find myself breezing through them to find out what happens next. That said, this book didn't do much for me. I found it predictable, and the main characters were beyond aggravating.
May Book Haul!
Here are the books I've treated myself to so far for May:
Verum - Courtney Cole (just finished Saturday - so good!)
Loving Mr. Daniels - Brittiany C. Cherry
The Program - Suzanne Young
Thrive - Krista Ritchie
The Devil's Metal - Karina Halle
The Big Book of Submission: 69 Kinky Tales - Rachel Kramer Bussel
The Unbecoming of Mara Dyer - Michelle Hodkin
Beautiful Disaster - Jamie McGuire
Fall From Grace - Christine Zoledz
Addicted for Now - Krista Richie (have already read)
Stepbrother Dearest - Penelope Ward
Guardian - Courtney Cole
Addicted After All - Krita Ritchie
Addicted to You - Krista Ritchie (already read)




May Releases!
I am so excited for three books that come out this month! Two of my favorite series get their continuation and conclusion, respectively, and the final book in one of the series that really got me into reading all get released this month within days of each other. #PreOrder!
May 12th
The first book that's releasing and causing me to fangirl like a 12 year old at a One Direction concert is
End of Days by Susan Ee
, the third and final book in the
Angelfall
trilogy. Rumor has it that this series was suppose to be a 5+ book series, so I'm both curious and worried to see how the series will be wrapped up. Those few
lucky bitches
book bloggers that have received ARC to review are raving about it, so I'm more curious than anything else. I cannot wait to see more of the sizzling chemistry between the main characters, and have more opportunities to fawn all over the sexy Raffe, one of my many book boyfriends. You have to read the books to understand my level of obsession with that man, and the relationship between the main characters. It gives me all the right feels.
And yes, I just figured out how to add gifs to my blog posts. I'm quite proud of how nerdy I'm becoming.
If you haven't read this series, Angelfall is the little indie book that could. It's a new adult novel that depicts a post-apolcoyptic world were angels have invaded and taken over, causing worldwide panic and destruction. Our protagonist, Penryn, is forced to team up with the aforementioned sex god, archangel Raphael, in a mad search for her abducted younger sister. This book is beautifully written, is full of hilarious dialogue, intense chemistry (but it is not an "insta-love" thing, which is beyond refreshing to read), heart-pounding action and one of the most intense and vivid worlds I've ever read. Angel books are a dime a dozen, and most of them are truly awful. This series is an amazing exception!
Here is the summery for Angelfall, the first book in the series:
It's been six weeks since the angels of the apocalypse destroyed the world as we know it. Only pockets of humanity remain.

Savage street gangs rule the day while fear and superstition rule the night.

When angels fly away with a helpless girl, her seventeen-year-old sister Penryn will do anything to get her back...



May 17th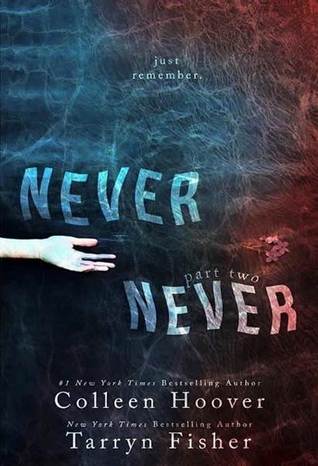 The next is Never Never, Part 2 by Colleen Hoover and Tarryn Fisher. Despite the first book being only 140-ish pages, I've never been so caught up in a story as I was with the first Never Never book, a new adult romance/mystery/maybe paranormal/not sure what's going on story. Holy hell, that book was tiny but packed a punch. So many things happened, but I never once felt rushed or cramped. The setting was beautifully placed, and the characters were so well defined and believable. I am so freakin' excited for this, you have no idea. Never Never Part 2 (and End Of Days, now that I think about it) is one of the most highly anticipated releases of 2015.
Here's the summery for the first Never Never book:
Best friends since they could walk. In love since the age of fourteen.
Complete strangers since this morning.
He'll do anything to remember. She'll do anything to forget.
The
story
follows Silas and Charlotte (Charlie), high school sweethearts who are the "perfect couple" on paper. The story spans over the course of a few days, and we soon realize that things are not as perfect as they seem at first glance.
We find out that our protagonists wake up one day with no memory of each other, their friends, families, likes or dislikes, though they can remember random things such as a certain song's lyrics, how to drive, and routes they usually take (bear with it, I was skeptical at first, too). Panicked and terrified of letting their condition become common knowledge, the two of them stumble their way back into their lives, and soon start to discover that they aren't very nice people, and that their relationship was extremely strained. In addition to that, they also discover that their home lives are pretty shitty, and something major went down to cause serious strife between their families. Despite being show that neither character is especially likable, I fell so in love with how they both viewed things with fresh eyes, and how they each processed it. And I loved Silas, period.
I can't say much more without spoiling it, and the ending is quite possible the worst cliffhanger I've ever been put through, but this book is in my top 10 favorites of all time and I highly recommend it.
May 18th
The final book is Maximum Ride Forever (Maximum Ride #9) by James Patterson. I started reading the Maximum Ride series when I was....14? It's one of the series that really got me sucked into reading and it has so much nostalgia for me. I remember eagerly anticipating each new release, and being disappointed with each one after the 4th book. Patterson used to be a good writer, but I've yet to read any of his new books that isn't complete trash. My expectations are extremely low for this, but I will still reading, for old time's sake and all that jazz.
Speaking of releases: though it's not a book, the Fifty Shades of Grey dvd comes out on the 8th. I did not see it in theaters, but I did read the books (hated them with a fiery passion) and have been curious to see it. Plus, I'm in love with the soundtrack!
Have you read anything good lately? Are there any upcoming releases you're looking forward to? Did you see Fifty Shades of Grey, and if so, what did you think of it?
- Dachshund Mommy